BASIC INFORMATION
LOCATION
municipality: San Vito di Cadore
address: Passo Giau
geographic coordinates: 46.490417, 12.068966
ACCESSIBILITY
wheelchair accessibility: not accessible
recommended season: summer/autumn
directions to reach the starting point: the wall can be seen from the side of the road that goes up to Passo Giau
INFORMATION
opening hours: always open, free access
DESCRIPTION
The nearby signpost defines the heap of stones protruding unevenly by the side of the road that leads up to the Giau Pass as an ancient boundary sign of great importance.
The Giau Wall emerged out of the quarrels between the inhabitants of Ampezzo and those of San Vito over trespassing herds of cattle. The disagreements between the two towns, it seems, were recorded as early as the fourteenth century. A stipulation from the eighteenth century permitted the community of San Vito to enjoy its herding rights as long as its inhabitants would erect at their expenses a so-called "marogna", or a boundary wall which would prevent livestock from trespassing on the meadows belonging to Ampezzo. The wall passed through the entire Giau Valley, without any apparent destination and regardless of the ruggedness of the terrain. The trench along the border was filled with stones from the surrounding area, which led to the removal of rocks from the pastures.
This artefact is unique to the entire Alpine region, and part of it can still be followed on foot - or at least be seen - following the specific indications approximately 2 km from the Giau Pass, coming from Cortina.
Such boundary demarcations originating from the 18th century and erected with local rocks - almost always dolomite stone, or as in the case of the Giau Pass Cassian Dolomite - could be found throughout the surrounding areas. The portion of Giau is perhaps the best-known part of the stone wall, but it represents a small part of the fences erected following the Treaty of Rovereto of 1752 which stipulated the boundaries of the Habsburg Empire with the help of a special commission.
The established measures of the Giau Wall were 6 feet high, 5 feet wide at the base and 2 feet at the top (or approximately 160 cm high and 80 cm wide); it was supposed to be 2 km long, and the construction works had to be completed within 90 days. The estimated cost for the project equalled the then-current price of 6800 cows.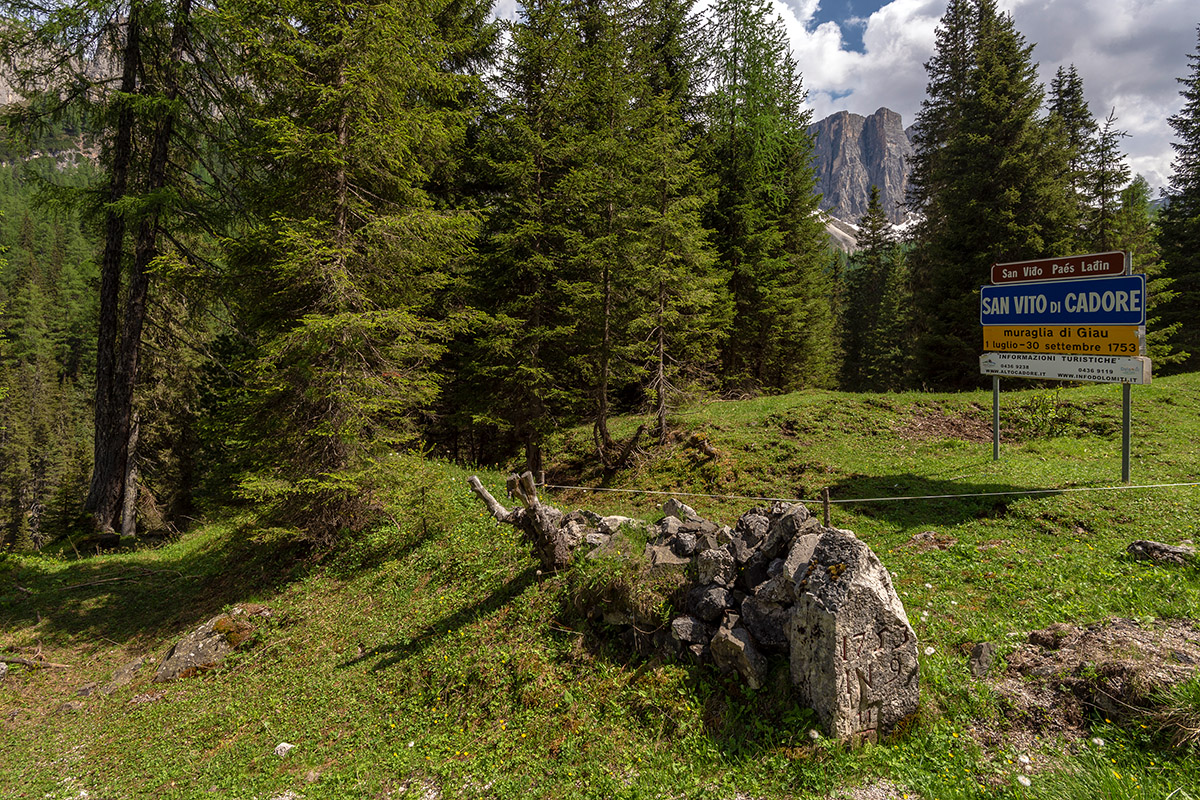 Remains of the Wall (photo by Giacomo De Donà)