The old town of Hall in Tirol - The Höttinger breccia conquers Tyrol
BASIC INFORMATION
ACCESSIBILITY: freely accessible
MUNICIPALITY: Hall in Tirol
ADDRESS: Upper Town Square
GEOGRAPHICAL COORDINATES: 47.281692, 11.507533
PROVINCE: North Tyrol
DIRECTIONS: To get to the historic center of Hall, take the A12 Inntal motorway until you reach the Hall Mitte exit. There are parking facilities near the old town - Haller Parkgarage (P1) and Garage Untere Stadt (P2).
DESCRIPTION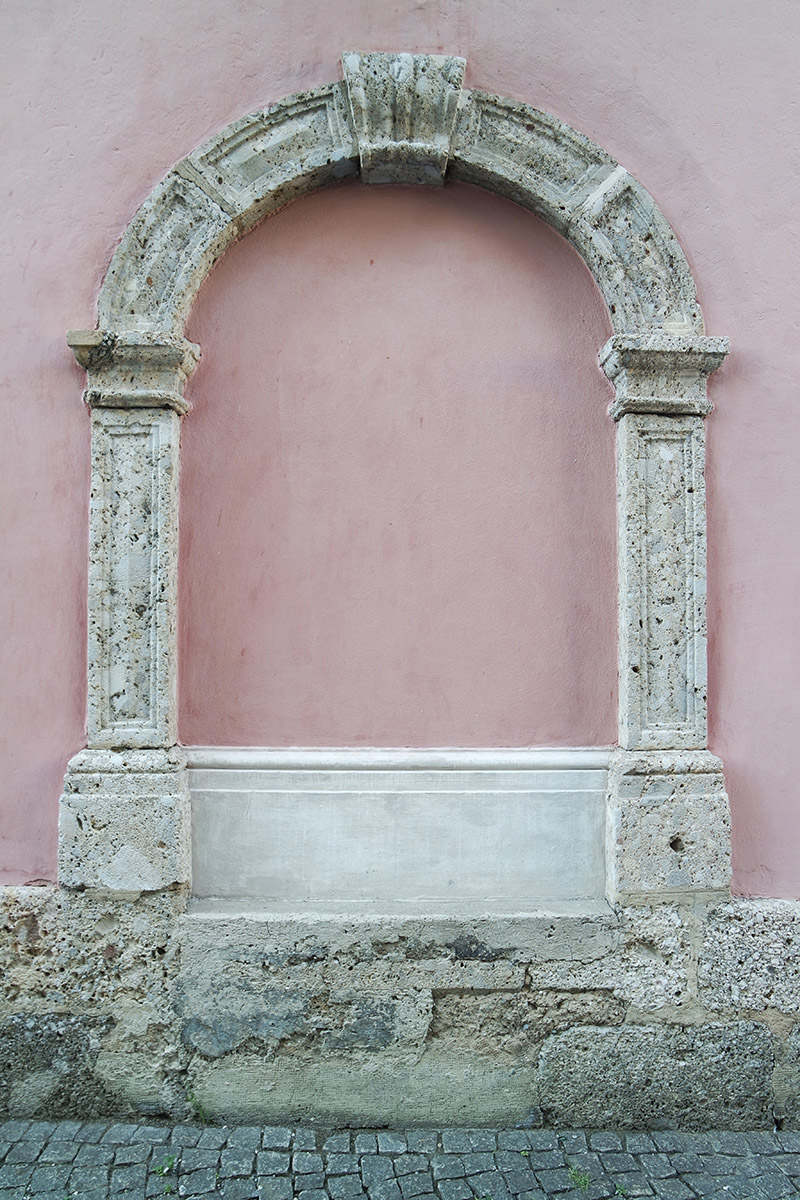 A door frame in Höttinger Breccia
One of the most beautiful cities in Tyrol - Hall in Tirol - lies ten kilometres from Innsbruck down the river Inn. The tasteful buildings dispersed throughout the medieval old town bear witness to the city's prosperity in the past. Upon closer inspection of the historic city centre, one is bound to encounter an old friend from Innsbruck, namely the "Höttinger Breccia". As in Innsbruck, it is the predominant material in Hall as well. It was the material of choice for window jambs, porch frames and other architectural elements. The properties of the "Höttinger breccia", including, but not limited to its high workability and resistance to climatic factors, were appreciated in Hall, too. For this reason, the "Höttinger breccia" has been transported down the river since the twelfth century. It was only with the arrival of the nineteenth century that it became increasingly redundant with the introduction of modern construction materials. The resistance of the "Höttinger breccia" is highlighted by the fact that the occurring weathering damage is due mainly to superficial impurities and their consequent discolouration.
USEFUL INFORMATION
Thanks to the production of salt, the town of Hall rose to prominence as the undisputed economic powerhouse of North Tyrol during the Middle Ages. The town became a prominent commercial and distribution hub on the river Inn already during the Middle Ages. As of the mid-fifteenth century, the sovereign's mint was transferred in Hall, which contributed significantly to the further economic upswing.
BIBLIOGRAPHY
R. Rampold, Kunstführer Tirol die 400 bedeutendsten Kunstschätze in Nord- und Osttirol, Tyrolia-Verlag, 2014.

U. Hofer, Aus welchem Stein ist Hall gebaut? Ein Inventar der Naturbausteine an den Fassaden der Altstadt, Forum Hall in Tirol. Neues zur Geschichte der Stadt, Band 1, Ablinger.Garber Verlag, 2006.
AUTHOR: Tobias Bader, 30/04/2020