BASIC INFORMATION
LOCATION
municipality: Cortina d'Ampezzo (BL)
address: Corso Italia
GEOGRAPHIC COORDINATES: 46.537463, 12.136879
ACCESSIBILITY
wheelchair accessibility: external
recommended season: all year
directions to reach the starting point: the bell tower is near the parish church of Saints Filippo and Giacomo
DESCRIPTION
Its spire loomed over 70.17 m height, not counting the sphere, the cross and the weathercock - all of these would lift it to about 73 meters. The construction of the entire tower would have cost 150,000 imperial florins and the whole undertaking was funded through the sale of timber.
Inside there is a stairwell, a room of "fire watchman", the sacristan's quarters and a large circular room above the church tower. The old church tower was demolished in 1850-51. It took Silvestro Franceschi from Ampezzo seven years to complete the features of the now standing tower. The first stone was laid on 18th August 1852, which also happened to be Emperor Franz Joseph I's birthday. Since the Habsburg Empire ruled over Ampezzo until 1918, the first thousandth was engraved on a rectangle of plaster.
There are however references to Franceschi's attempts to retrieve rocks of good quality throughout the valley. He found the quarry on the Main Dolomite at Crepedel in Acquabona. The basement and stairwell of the parish church, on the other hand, were repaired with stones from the bottom of the valley in Ru Dei Cavai, which was depleted as a result of the works.
The public announcement speaks of a quarry in Sopiazes, near Ronco, at the finish line of the bobsleigh track. What is certain is that transportation costs could be somewhat cut down by using Aquabona rock, at the foot of mount Faloria.
The work is complete with the clock produced by the Lacedelli brothers, the bells made by Johann Grassmayr from Tyrol, the copper sphere from Agordo, covered with a sheet of pure gold and worked in Innsbruck, and the cross forged in the Brixlegg smelters.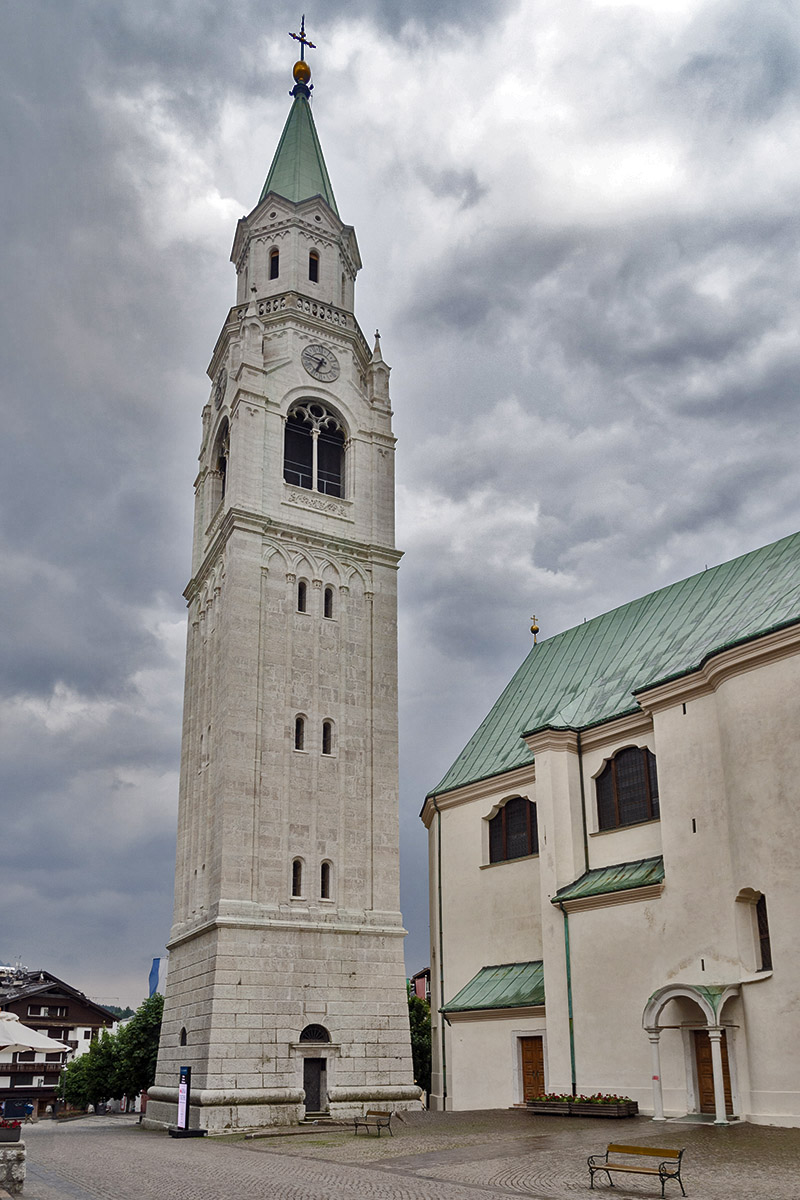 The Bell Tower of Cortina d'Ampezzo (photo by Giacomo De Donà)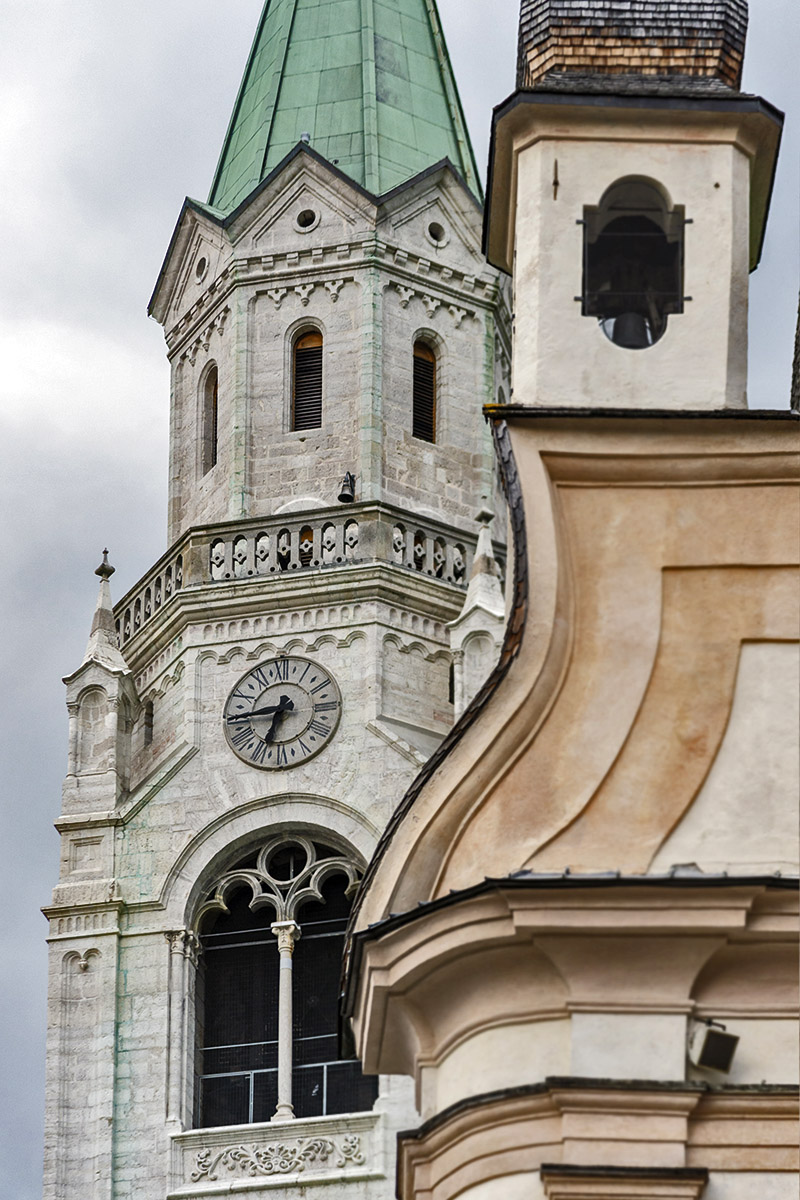 The Bell Tower and the Parish Church (photo by Giacomo De Donà)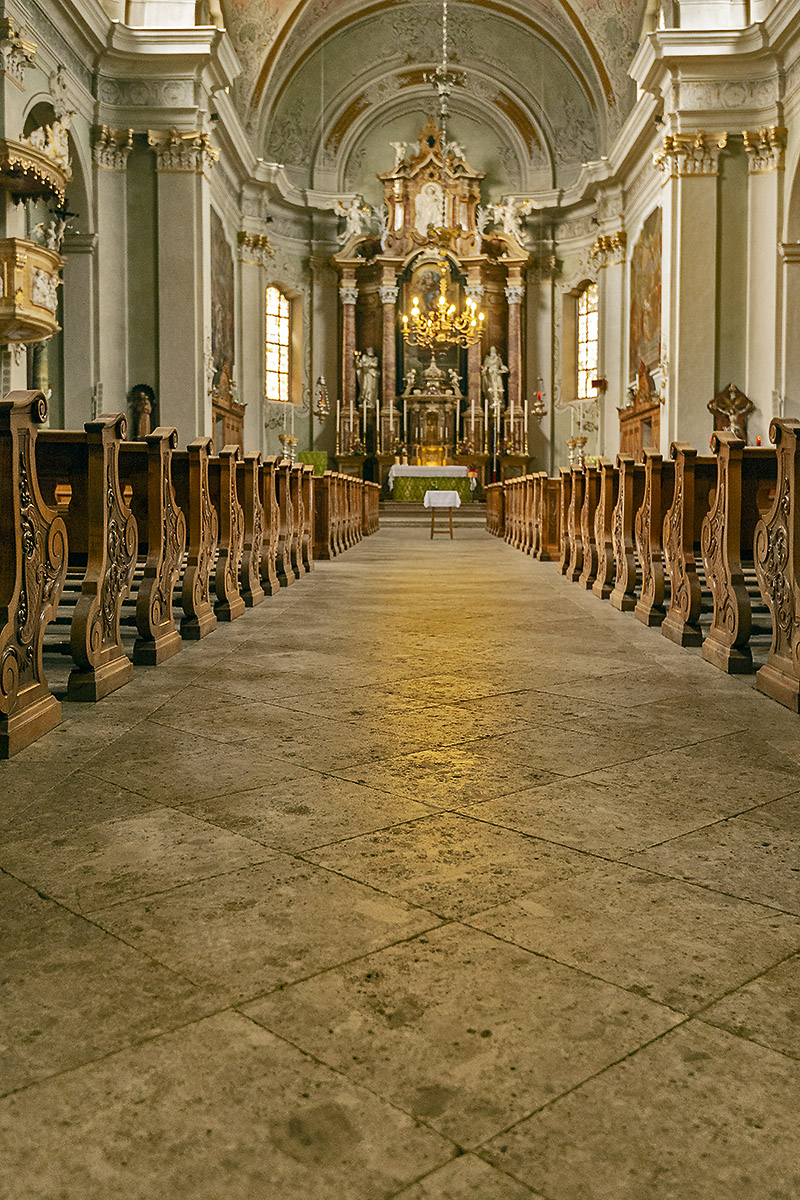 The Parish Church (photo by Giacomo De Donà)