BASIC INFORMATION
LOCATION
numicipality: Val di Zoldo
address: Forno di Zoldo, Via Guglielmo Marconi
geographic coordinates: 46.345996, 12.177801
ACCESSIBILITY
wheelchair accessibility: accessible
recommended season: all year
directions to reach the starting point: located in the center of Forno di Zoldo
DESCRIPTION
Finding valuable artefacts made of dolomite rock in the vicinity of Zoldo isn't that easy an enterprise, even though this type of stone is ubiquitous in the zone. Instead, the area makes widespread use of Castellavazzo stone because of its relative proximity and convenient access to the materials.
One of the few examples found in Zoldo is not so much an edifice or an old sculpture, but rather a modern composition made of dolomite and located on the main square in Forno di Zoldo. The architecture design studio Pelizzi from Parma won the competition announced and held by the Municipality of Zoldo in 2016 and was assigned the project of designing a fountain memorial. Apart from the project for a fountain memorial, there has been an inquiry for some other elements, such as street furniture, chairs, traffic bollards and flower beds - all made of dolomite.
The company which carried out the work is Munaro Vincenzo from Chies d'Alpago while the one that supplied the dolomite stone is 'Pietra Dolomia' from Sevis. Fent Marmi from Feltre processed the stone in collaboration with Mafem from Parma who produced the elements in stainless steel and corten steel.
Following to the designers' ideas, the nails that symbolise Zoldo and the flowers of the landscape have been minimised to their core and proposed artistically as a tiny stone cube suspended and supported by an iron tube. Another way to understand the composition is by seeing the stone parallelepiped as a symbol of the mountain, the metal rods as iron ores and the tiny cubes as houses. The fountain memorial and the rest of the street furniture have thus become a representation of nature and the birth of the village perched on the Dolomites, which grew and flourished thanks to its iron ores. Their story is told in the nearby Museum of Iron and Nail set up at Palazzo del Capitano (The Palace of the Captain).
The fountain memorial echoes the tiny stone cube used as a theme for the repaired pavement of the town square and implements it as a measuring unit for the entire project.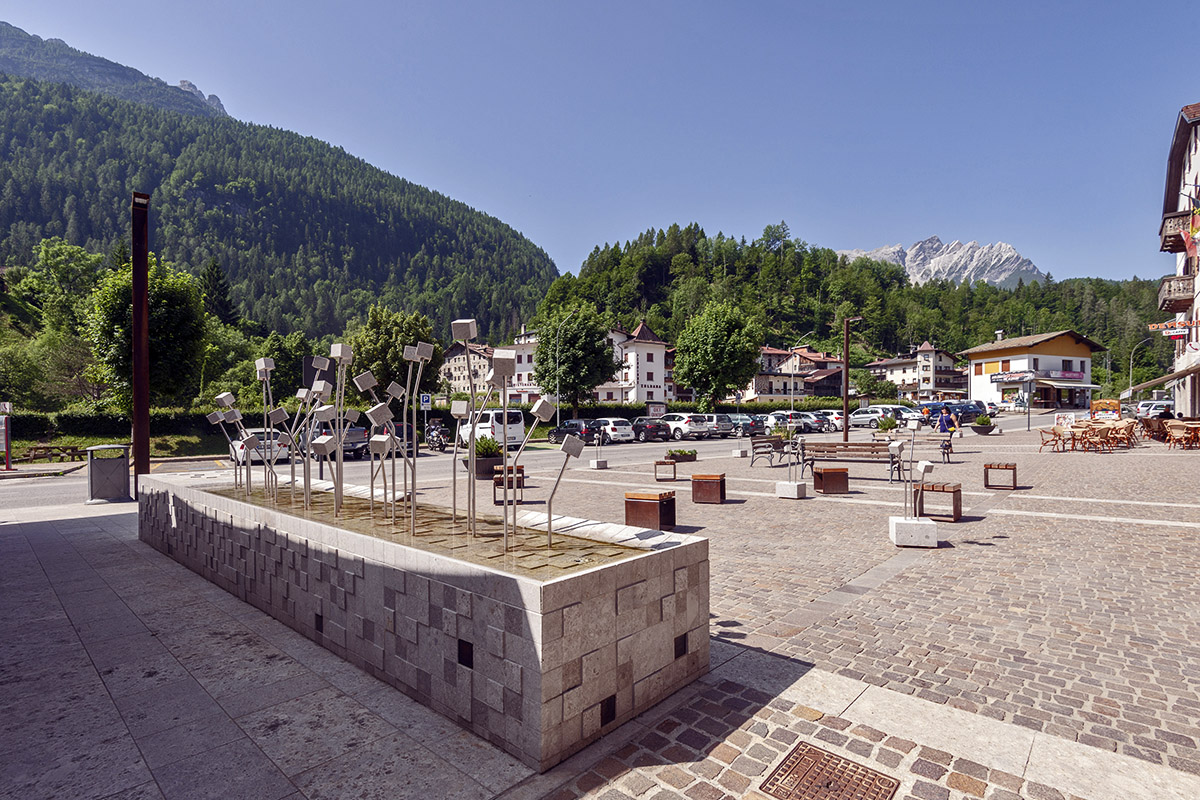 The fountain (photo by Giacomo De Donà)