13 Pian della Stua (1373 m a.s.l.) - The transition from cliff to basin
Pian della Stua's ravaged landscape suggests that we stand on the debris of an ancient landslide, now completely covered by vegetation. The plants thrived thanks to the abundant volcanic material which are more fertile than the dolomite.
Val di Reiane is the northern slope composed of igneous rocks (andesite and reshaped pillow lava). It is streaked with gorges trending along ancient Triassic faults. The valley floor was carved in the predominantly thinly-layered limestones of the Livinallongo Formation, which are partly covered by scree and landslide particles; the alternation of layers of different erodibility has led to the creation of several waterfalls. The valley's southern flank is entirely carved from Schlern Dolomite and corresponds to the reef escarpment of Pale del Balcon.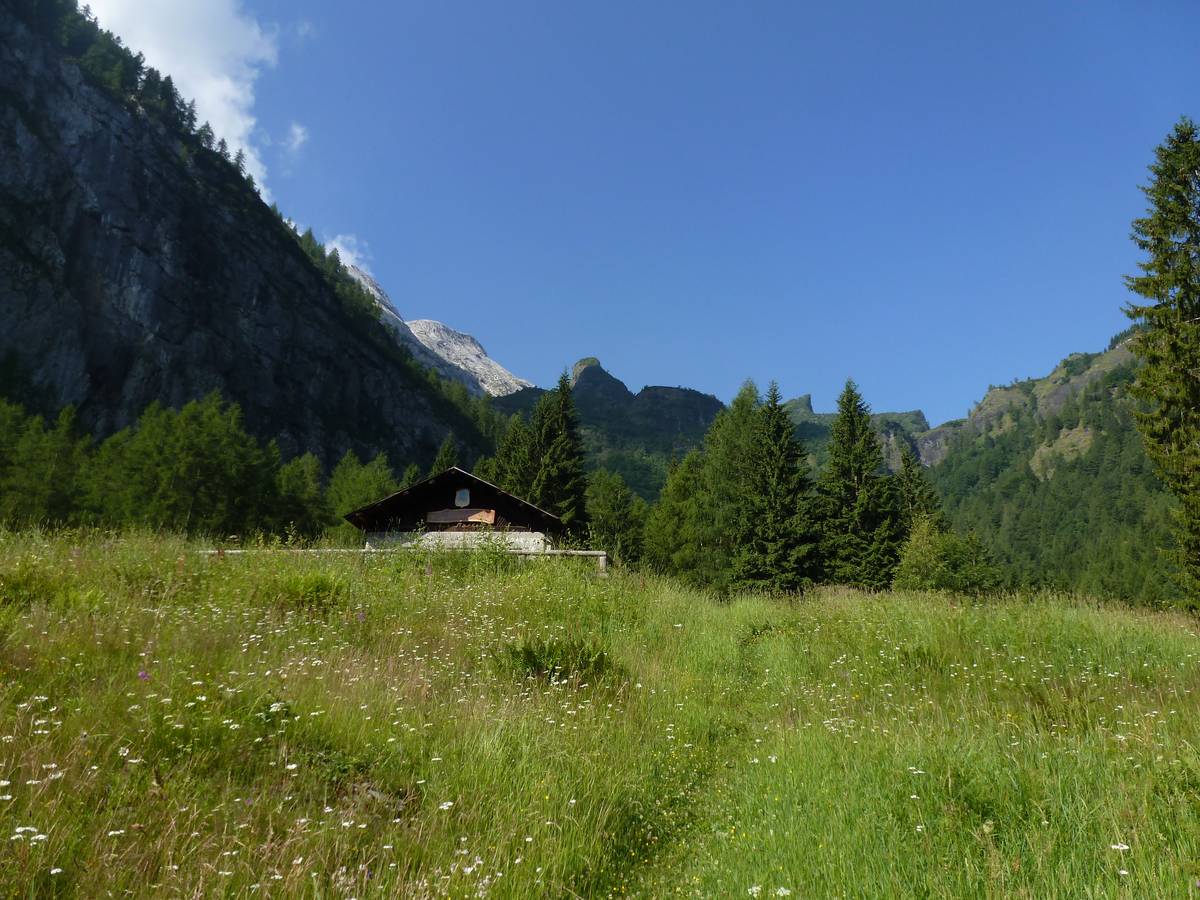 Casera Pian della Stua, in the background the cliff escarpment of the Pala-Group, with Sass Negher (photo DG).
A vertical rocky wall, recently subject to minor slides is to the south of Pian della Stua - a steep step interrupts the cliff slope. This is the result of selective erosion facilitated by the wall's positioned along a strip of cataclasites connected to a vertical transcurrent fault, trending East-West.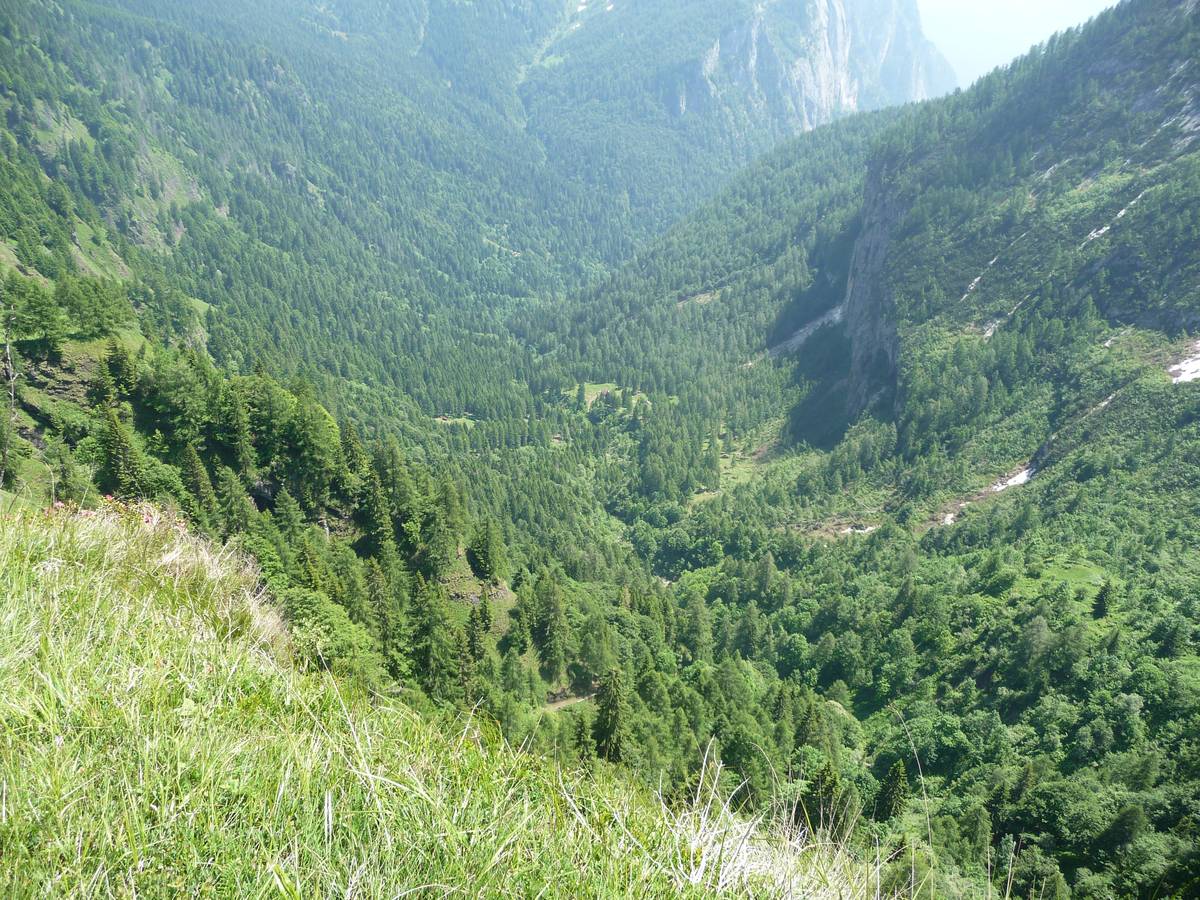 Val di Reiane and Pian della Stua; the left slope is modelled in volcanic rocks (reshaped pillow lava), whereas the right one is carved into the cliff's escarpment. The hut with the looming wall and fault (photo DG).
Not far from the path past the hut, it is clearly visible where the cliff escarpment converges with a large slab of dolomite which ends in the vicinity of a thin-layered structure. This part of the Lvinallongo Formation represents deep see environment. Another outcrop of this formation is found at the base of the first waterfall, at the base of which the trail passes.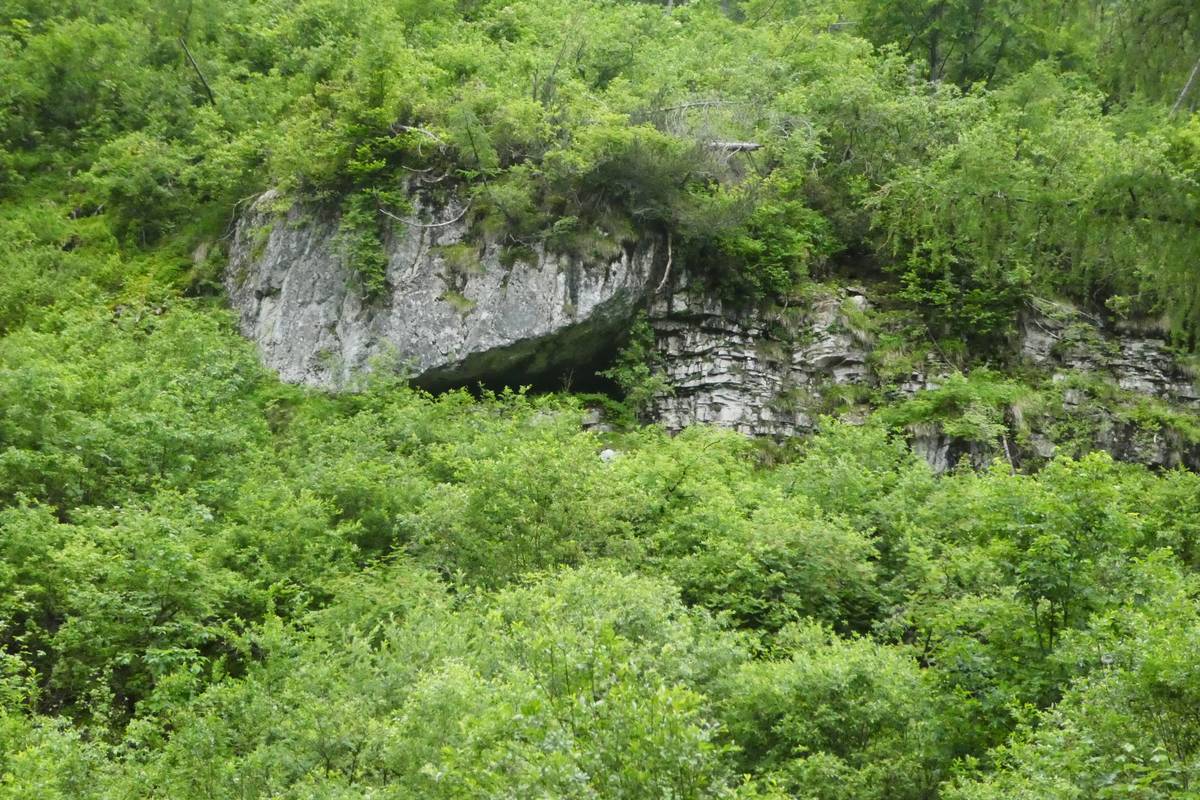 Contact between a slab of the Schlern Formation set on the thin layers of the Livinallongo Formation (photo DG).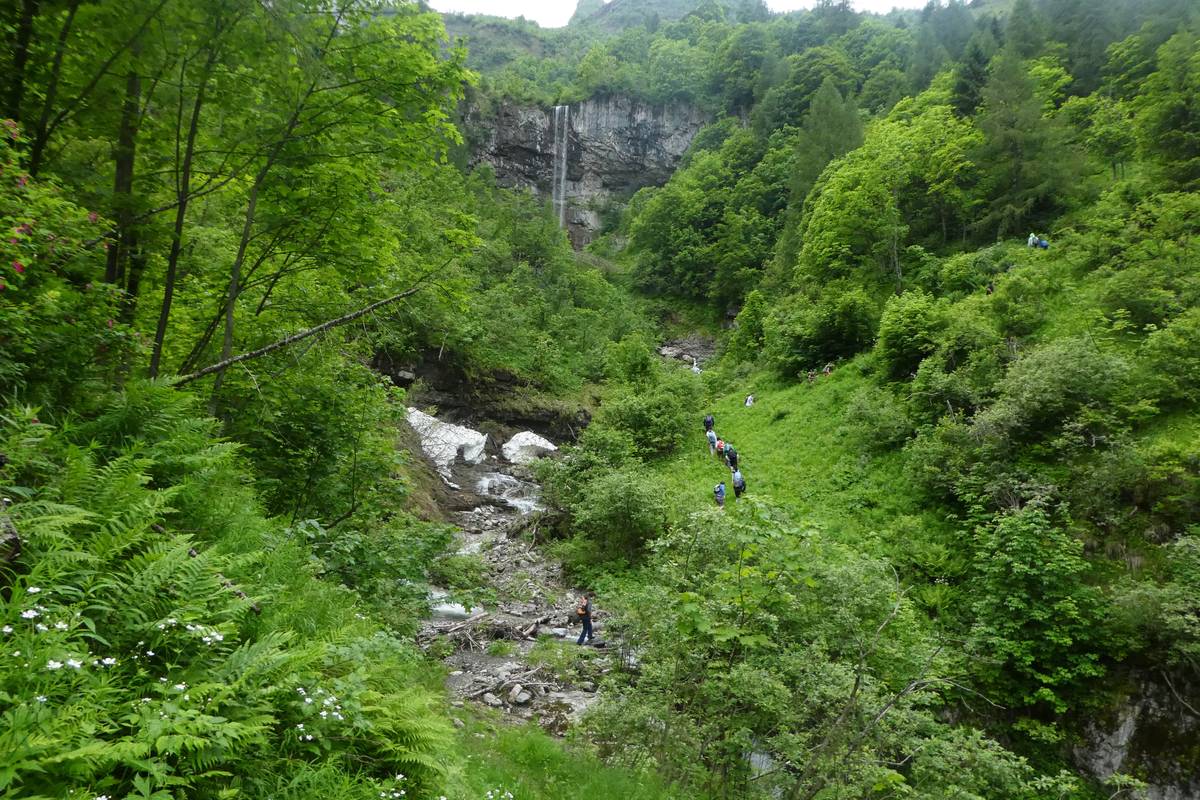 Massive ledge of the Schlern Formation intertwined with the layers of the Livinallongo Formation (photo DG).
This lithological unit has been traditionally divided in three members: plattenkalk (dark, bituminous limestones with horizontal lamination; they were formed in anoxic environment, with rare layering of green volcanic rocks; Knollenkalke (nodular flint limestones with thin volcanic layers, and Banderkalke (created by turbidite, layered by laminated marl as well as thin strata of pelagic limestones. The occurrence of the "green stones" is indicative of their volcanic origin from an area from the south of the Dolomites with active, explosive volcanic activity involving rhyolitic acid magma.
Download