The lime kiln in Kals am Großglockner - a silent witness of lime burning in East Tyrol
BASIC INFORMATION
LOCATION
MUNICIPALITY: Kals am Grossglocker
ADDRESS: Kalser highway
GEOGRAPHIC COORDINATES: 46.983765, 12.633582
PROVINCE: East Tyrol
ACCESSIBILITY: from the outside
DIRECTIONS: The lime kiln in Kals am Großglocker is located on the Kals circular trail at Stage 3 between Arnig and Lana. You can reach the starting point in Arnig on the Kals road. On the left bank of the Kalserbach you will find plenty of parking space at the starting point in Arnig (in front of the bridge).
DESCRIPTION
The systematic processing of limestone and dolomite rock into burned lime and caustic-burned dolomite is ancient building culture. The underlying process is called lime burning and was eponymous for the resulting craft. The necessary skills and know-how were usually kept within the family and passed on to the next generation. It is, however, unlikely that the lime burners made a distinction between limestone and dolomite rock. There were several lime kilns in the municipality of Kals. A well-preserved lime kiln is located close to a lime pit, extending along the gravel layers of Kals. The material found in the limestone pit in Kals (including dolomite rock) was most likely used as a raw material for the production of binders for mortar and plaster.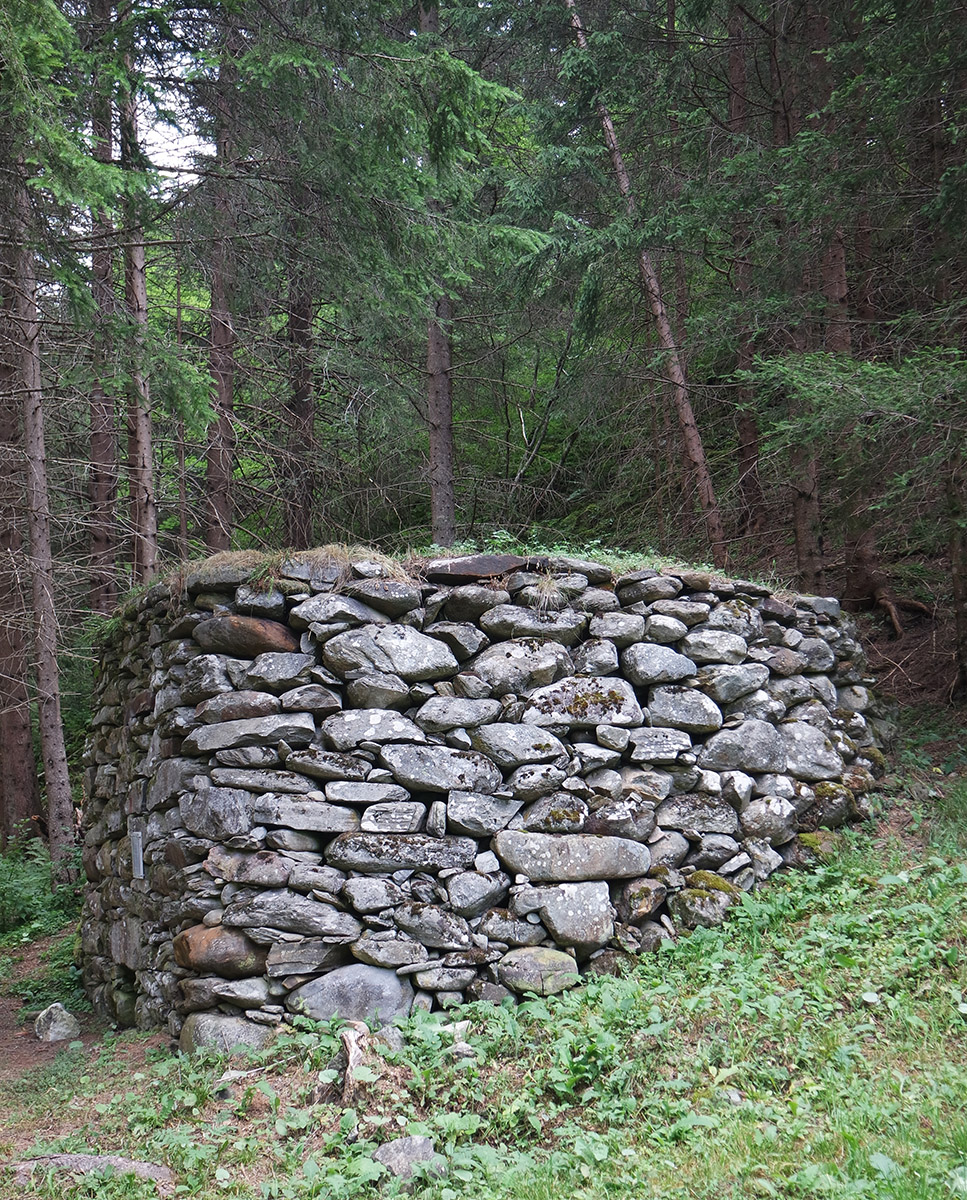 Field lime kiln built of layered quarry stones on the banks of the Kalserbach
USEFUL INFORMATION
Many villages and farms in North and East Tyrol had their lime kilns for the production of burnt lime or caustic-burnt dolomite. In the middle of the twentieth century, in many places ordinary lime burning in field kilns gave way to industrial lime production had to be discontinued due to economic reasons.
BIBLIOGRAPHY
J. Stark und B. Wicht, Geschichte der Baustoffe, Springer-Verlag, 2013.
A von Mersi, A. von Pfaundler und J. Röggel, Beiträge zur Geschichte, Statistik, Naturkunde und Kunst von Tirol und Vorarlberg, Zweiter Band, Wagner Verlag, 1826.
AUTHOR: Tobias Bader, 30/04/2020