Innsbruck's old town - dolomite rock used as a component of the Höttinger breccia
BASIC INFORMATION
ACCESSIBILITY: freely accessible
MUNICIPALITY: Innsbruck
ADDRESS: Old Town
GEOGRAPHIC COORDINATES: 47.268505, 11.393336
PROVINCE: North Tyrol
DIRECTIONS: To reach Innsbruck's old part, it is advisable to avoid using the car and arrive either by bus or by train. The old town is just two kilometres away from the central station which makes it for a pleasant walk on foot.
DESCRIPTION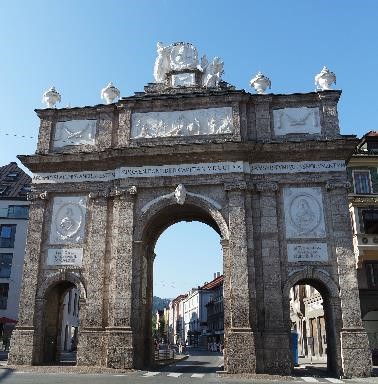 The Triumphal Arch is located at the southern end of present-day's Maria-Theresien-Straße and represents, historically speaking, the south entrance to the city.
A stroll through Innsbruck's old town immediately brings to attention the reddish elements on the facades, bases and ornaments of the Innsbruck Cathedral which defines the cityscape. The same is true for the Triumphal Arch and many other residential and business buildings. This rock's characteristic reddish colouring would not seem to suggest at first glance that, in a broader sense, the ashlar is also dolomite. In this case, the dolomite rock is simply part of a natural stone called "Höttinger breccia." This type of rock is comes from the debris deposits from the interglacial period, located on the southern slope of the Nordkette (the north mountain chain) and is composed of sandstone, limestone and dolomite. The individual components have edges and corners and are enveloped in rock flour (grated carbonate rock and red sandstone) whose colouring could range from grey-yellowish to reddish. The fine rock flour binds the different components and renders the stone sturdy. Due to its excellent workability, its beauty and its relatively high resistance to adverse weather conditions, the "Höttinger Breccia" grew to be Innsbruck's predominant ashlar.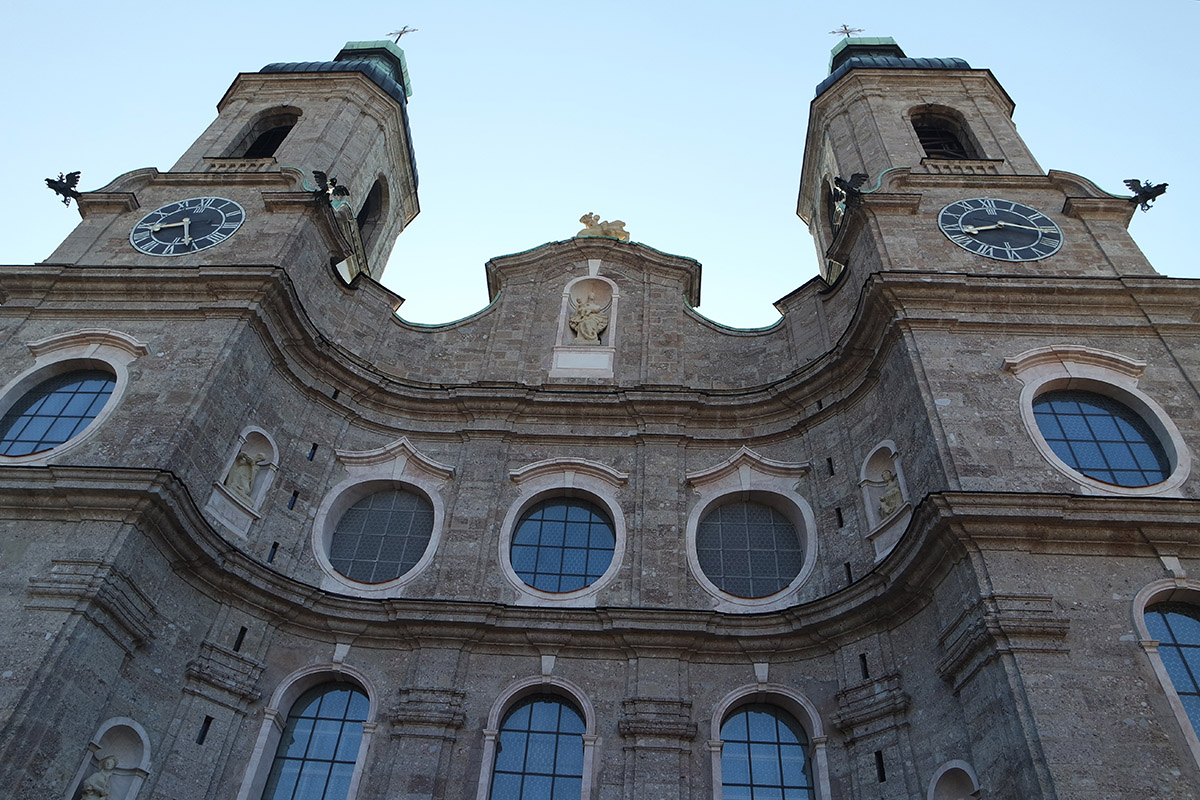 Innsbruck's Cathedral of St. James was built for the most part using Höttinger breccia.
USEFUL INFORMATION
Almost all Gothic construction details in Innsbruck's old town consist of natural "Höttinger Brekzie" ashlar. The stone is characterised by its rich lighting and shadow effects as well as the changing colour of its components. These features satisfy the Gothic pursuit of "light in motion".
BIBLIOGRAPHY
U. Obojes, W. Hauser und P. W. Mirwald, Naturwerkstein und Denkmalpflege in Tirol – Stein als Baustoff, Forschungsobjekt und Kulturgut, Tiroler Kunstkataster und Tyrolia-Verlag, 2007.

R. Klebelsberg, Nutzbare Bodenvorkommen in Nordtirol, Veröffentlichungen des Tiroler Landesmuseums Ferdinandeum – 019, 1939.

R. Rampold, Kunstführer Tirol die 400 bedeutendsten Kunstschätze in Nord- und Osttirol, Tyrolia-Verlag, 2014.

J. Gritsch, Tiroler Werksteine - wie sie der Kunsthistoriker sieht, Veröffentlichungen des Tiroler Landesmuseums Ferdinandeum – 026-029,1946/49.
AUTHOR: Tobias Bader, 30/04/2020