The Tschirgant landslide - The origin of dolomitic rock at the entrance of the Ötz Valley
BASIC INFORMATION
ACCESSIBILITY: freely accessible
MUNICIPALITY: Haiming, Roppen, Sautens
ADDRESS: n.a.
GEOGRAPHIC COORDINATES: 47.255372, 10.845135
PROVINCE: North Tyrol
DIRECTIONS: You can reach the landslide area at the foot of the massif via the Inntal motorway A12 coming from Innsbruck. Take the exit Mötz and proceed on the federal highway 171 passing Studach and Silz towards Haiming. From Haiming continue underneath the motorway and follow the parallel road going west for 1.5 km; on your right-hand side, you will be able to find a parking space. From there, take the forest road and continue on foot. After approx. 400 m, turn on the cart track leading to the cliffs of Tschirgant and follow it until you reach your destination.
DESCRIPTION
Tschirgant is the main summit of the eponymous massif in the Northern Limestone Alps composed of limestone and dolomite rock. A massive landslide, presumably caused by a glacier retreat, oc-curred 3000 years ago. Initially, the glacier ice steadied the overhanging slopes, these became in-creasingly unstable, however, following the glacier retreat. The falling rock masses thundered down and swept over several kilometres across the Inn Valley, obstructing the mouth of the Ötztal on the opposite side of the valley. The meanwhile overgrown scree spreads over an area of more than ten square kilometres. Further scars of this event are visible in the area of the "Weißen Wand" (or "white wall") in the form of fault lines located on the upper mountain flank. If coming from the Inn valley nowadays, one turns into the Ötztal it would be inevitable to pass through a landscape abounding in tiny knolls, hollows and shattered rocks, which once was deemed useless for agriculture. What happened as a result was the formation of a forest, hardly touched by a hu-man hand by the name of "Sautener Forchet".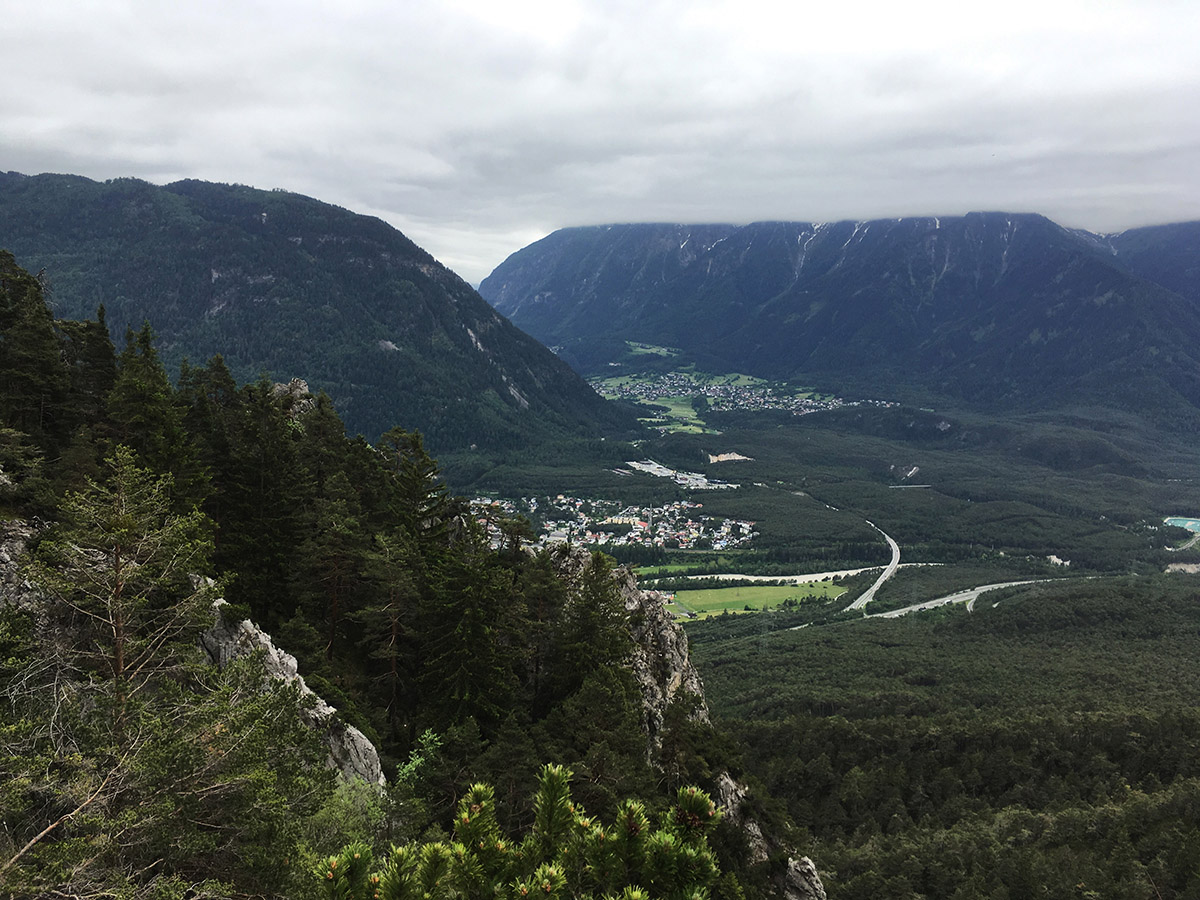 The Tschirgant landslide
USEFUL INFORMATION
The massif around the eponymous Tschirgant consists of Wetterstein limestone and dolomite. The powerful landslide uncovered metalliferous veins in the "Weiße Wand" area, which led to the mining of lead, silver and zinc from the fifteenth century onwards.
BIBLIOGRAPHY
Office of the Provincial Government of Tyrol, Ordinance of the Provincial Government on the Declaration of the Tschirgant landslide as nature reserve (Nature Reserve Tschirgant). Depart-ment of Environmental Protection, Innsbruck, 2008.
R. Klebelsberg, Nutzbare Bodenvorkommnisse in Nordtirol, Veröffentlichungen des Tiroler Landesmuseum Ferdinandeum, 19, 1-56, 1939.
AUTHOR: Tobias Bader, 30/04/2020