Rattenberg Castle - dolomite stone as building stone
BASIC INFORMATION
ACCESSIBILITY: from the outside
MUNICIPALITY: Rattenberg
ADDRESS: n.a.
GEOGRAPHIC COORDINATES: 47.439086, 11.893368
PROVINCE: North Tyrol
DIRECTIONS: You can reach the Rattenberg castle ruin via the Inntal motorway A12. Proceed to exit Kramsach, then follow the Kramsacher highway and cross the river Inn. At the roundabout take the fourth exit (Rattenberg) and then turn left onto the Südtirolerstraße. Starting from P1 Rattenberg car park, follow the signposts "Zum Schlossberg" ("to the castle hill") on foot, and after about 15 minutes you will reach the castle complex.
DESCRIPTION
The precipice of the southern foothills of the Kitzbühel Alps emerges abruptly over the river Inn right in the midst of the Inn Valley, between Wörgl and Schwaz. The strategically important position of this dolomite precipice led to its fortification. A descendant of the Bavarian aristocratic family of Rapotonen started the construction of a castle around the year 1000. From the original fortification complex situated in the former border area between Bavaria and Tyrol there are still some preserved parts of the ring wall, and the Romanesque castle keep, for the construction of which was used, among other things, dolomite stone. In the course of its eventful history, the castle which belonged to Bavaria, was pledged several times to Tyrol, before it finally became part of Tyrol in 1504 under the rule of Emperor Maximilian I. Its strategically important location in the Inn valley became the reason for the expansion of the fortress in the 16th century until it became a modern fortress similar to Kufstein. The Rattenberg castle served as a fortress until the eighteenth century before it was given over to ruin. The municipality of Rattenberg acquired the castle ruins in 1905 and has carried out numerous works aimed at the preservation and restoration of the complex ever since.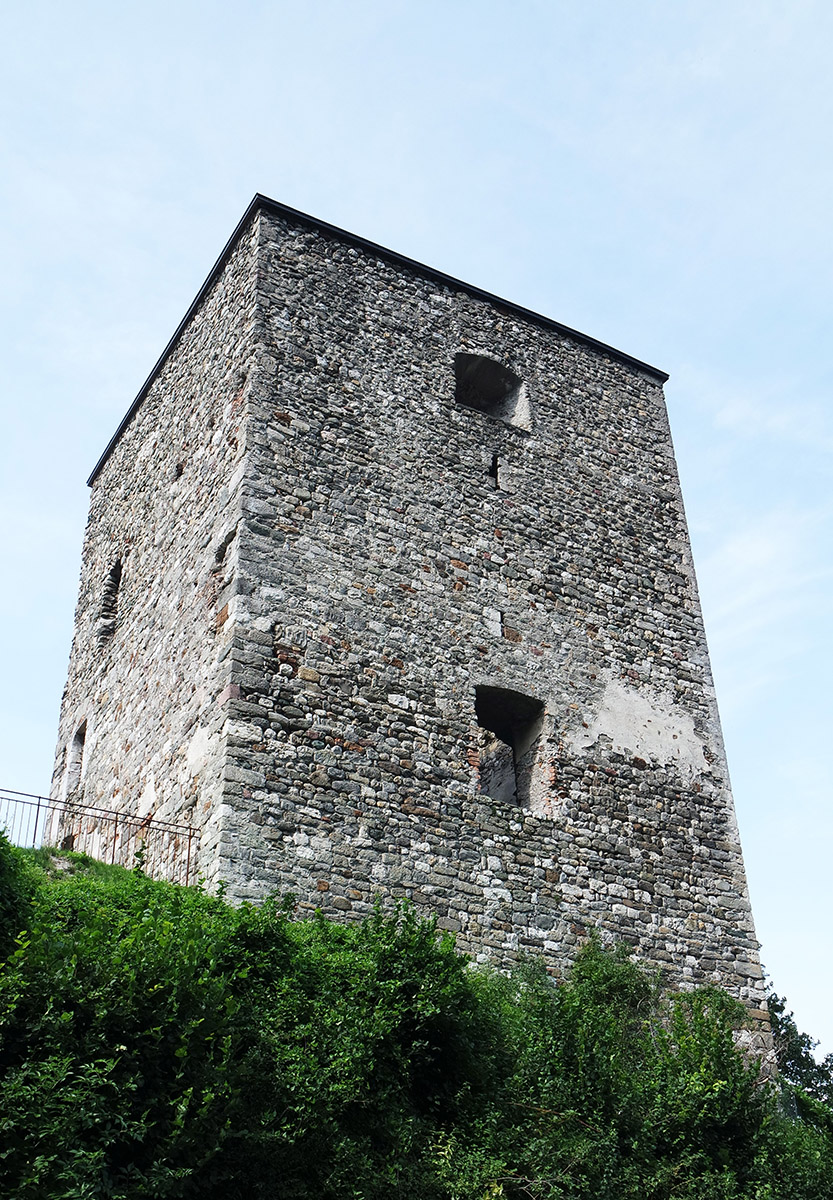 The Rattenberg castle keep with square floor-plan and stonework of dolomite stone.
USEFUL INFORMATION
Nowadays the castle hill serves as a viewing platform; in summer it is also the venue of the Rattenberger Schlossbergspiele (Castle Theatre Festival).
BIBLIOGRAPHY
J. Weingartner u. M. Hörmann-Weingartner, Die Burgen Tirols – Ein Burgenführer durch Nord-, Ost- und Südtirol, Tyrolia-Verlag, 1981.

B. Pinzer u. E. Pinzer, Burgen, Schlösser und Ruinen in Nord- und Osttirol, Edition Löwenzahn, 1996.
AUTHOR: Tobias Bader, 30/04/2020