BASIC INFORMATION
LOCATION
municipality: Sospirolo
locality: Masiere
geographic coordinates: 46.156398, 12.113580
ACCESSIBILITY
wheelchair accessibility: not accessible
recommended season: all year
directions to reach the starting point: Ponte Mas (Sedico); Gron (Sospirolo); Mis (Sospirolo)
DESCRIPTION
Our last legend will take us to the creation of the "Masiere di Vedana" - an enormous landslide located at the mouth of the stream Cordevole in Valbelluna. The dolomitic formations which are ubiquitous in the northern part of the Province of Belluno are quite rare here. Instead, there is an abundance of partially dolomitized limestone that belongs to the so-called Grey Limestone and Limestone of Vajont.
From the widening riverbed of Cordevole, emerging from the narrow valley that descends from the Agordino, once stood the very rich Pieve di Cornia, right at the foot of Mount Martino (Mount Peron), but inhabited by very little generous people. Once two wayfarers passed there - Jesus and St. Peter - asking for alms and receiving insults as an answer. Only when they arrived at the house of a poor widow did they find hospitality: the woman regretted the strangers because she had no food to offer them, but when she looked into the pantry, she found all kinds of delicacies. St. Peter, Jesus and the widow's son then walked to the top of the mountain where the child hit the rock with a hammer and the mountain instantly collapsed destroying Cornia but leaving the house of the courteous woman intact.
The vast pile of stones that forms the Masiere of Vedana was indeed caused by the fall of one or more landslides. Its area of detachment is clearly visible on the southern slope of Mount Peron. During the rise of the Dolomitic chain, the whole mountain body was crisscrossed by numerous fractures that were then impregnated by mineralising fluids. This process led to the dolomitization of ample portions of the original limestone. This maze of fissures and unevenness had weakened the rocky mass, facilitating the occurrence of landslides.
The landslide probably occurred several million years ago, shortly after the retreat of the glaciers and it could not have possibly damaged any residential areas.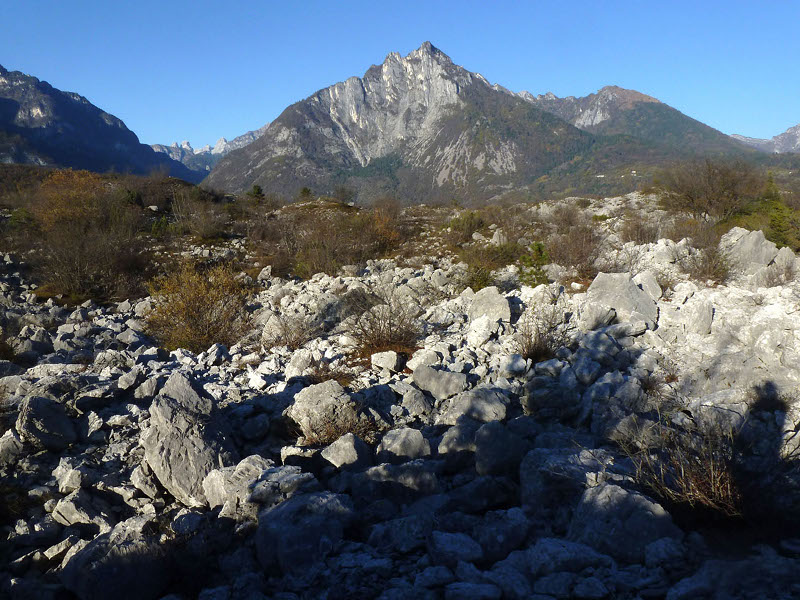 The Masiere of Vedana (photo by Danilo Giordano)
USEFUL INFORMATION
More recent studies, however, seem to point to a much more recent date of the landslide, perhaps during the 2nd century AD, which coincides with the account of Giorgio Piloni (History of the City of Belluno) from the 12th century, who ascribed the landslide to an earthquake.
LINKS TO WEBSITES
BIBLIOGRAPHY
L'oro di Cornia: la natura e gli uomini nel paesaggio delle Masiere di Vedana, edited by di Alba Barattin, Francesco Bacchetti
AUTHOR: Letizia Lonzi, 30/04/2020