The Kundlburg ruin - dolomite rock as a building stone
BASIC INFORMATION
ACCESSIBILITY: freely accessible
MUNICIPALITY: Kundl
ADDRESS: Schießstandweg
GEOGRAPHIC COORDINATES: 47.460333, 11.990333
PROVINCE: North Tyrol
DIRECTIONS: The ruins of the castle lie on a rocky cliff overlooking the entrance of the Kundler gorge. You can reach the demolished castle via the A12 Inntal motorway; take the exit Wörgl-West and proceed on the B171 to Kundl. Then turn on Schießstandweg and follow it until its end. From there, follow the uphill forest path on foot for 20 minutes.
DESCRIPTION
The Kundlburg once spread over the entire hill area above the "Kundler Klamm" (or the "Kundl gorge"); nowadays only some parts of the curtain wall (segments of the western wall) and the castle keep remain intact. The first documentary mention of Kundlburg dates back to the year 1213, but it seems that the castle must have been given over to ruin already in the fifteenth century. The castle masonry was built from hardly hewn stones (including dolomite rock), which probably came from the river "Wildschönauer Ache". The "Wildschönauer Ache" flows through the "Kundler Klamm" dolomitic rock massif before it bursts into the Inn Valley and flows into the Inn. The present-day municipality of Kundl lies over the alluvial cone created at the gorge's entrance over time.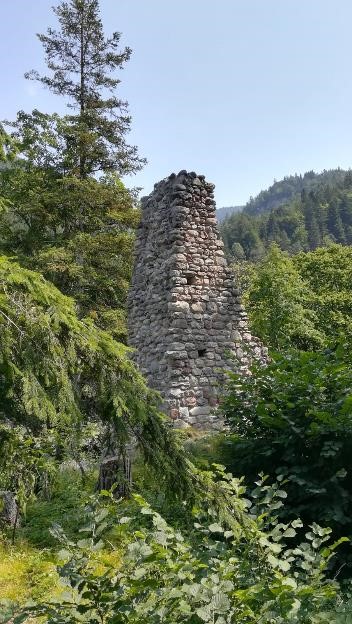 The still preserved remains of the Kundlburg castle keep above the gorge.
USEFUL INFORMATION
The tributaries of the river Inn flowing through the densely wooded side valleys (e.g. the "Wildschönauer Ache") were used for wood drifting well into the twentieth century. Loggers would throw tree trunks into the overflowing rivers in springtime, which were later "fished" out of the river Inn.
BIBLIOGRAPHY
- J. Weingartner u. M. Hörmann-Weingartner, Die Burgen Tirols – Ein Burgenführer durch Nord-, Ost- und Südtirol, Tyrolia-Verlag, 1981;
- B. Pinzer u. E. Pinzer, Burgen, Schlösser und Ruinen in Nord- und Osttirol, Edition Löwenzahn, 1996.
AUTHOR
Bader, 30/04/2020