Saints Peter and Paul Church on Kirchbichl in Lavant - dolomite rock as building stone
BASIC INFORMATION
ACCESSIBILITY: freely accessible
MUNICIPALITY: Lavant
ADDRESS: Lavant Kirchbichl
GEOGRAPHIC COORDINATES: 46.795532, 12.834683
PROVINCE: East Tyrol
DIRECTIONS
The Church of the Saints Peter and Paul is perched on the "Lavanter Kirchbichl", above the St. Ulrich pilgrimage church. You can reach Lavant via the Lavanter road, following the signs in the village to the parking facilities at the foot of Kirchbichl. From there you can follow the marked path to the church, visiting other places of interest on the way.
DESCRIPTION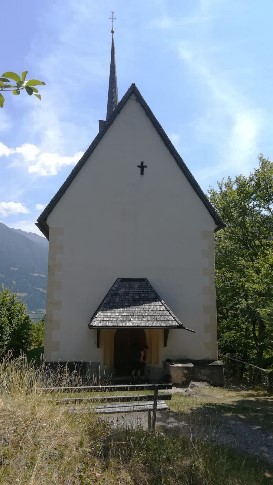 Entrance of the Church of the Saints Peter and St. Paul on the top of Kirchbichl in Lavant.
Visible from afar from the Drava Valley, the Lavant Kirchbichl rises over the municipality of Lavant, which is one of the historically most significant but also strangest places of worship in Tyrol. The church dedicated to the apostles Peter and Paul lies above the St. Ulrich church of pilgrimage on the top of the mountain. The discoveries of recent excavations suggest that on the site of the modern church once stood the former Lavant Castle keep. Following the castle's decline and demolition, the construction of what we now call the Church of the Saints Peter and Paul began around the year 1400. The nave base is inlaid with processed dolomite stone as ornamental building stone, thus forming a visual counterpoint to the otherwise plastered church facade.