BASIC INFORMATION
LOCATION:
municipality: Cortina d'Ampezzo (BL)
address: Strada Statale 51 di Alemagna
geographic coordinates: 46°35′48, 12°06′46
ACCESSIBILITY
wheelchair accessibility: not accessible
recommended season: summer/autumn
directions to reach the starting point: north of Cortina, shortly after Fiames, there is a path on the right that leads to the remains of the castle.
DESCRIPTION
The castle was first mentioned in 1156, whereas Botestagno (German: Botenstein) makes its first appearance in 1175.
What is now visible are the ruins of the Botestagno Castle located in the Natural Park of the Ampezzo Dolomites. The castle ruins have perched on a cliff that dominates the valleys that converge beneath it: the valleys of the rivers Boite and Felizon, approximately six kilometres to the north from the centre of Cortina, at 1,513 m. For centuries the castle served as a strategic stakeout of the Felizon valley for whoever wished to dominate it and to keep a vigilant eye on the safety of travellers. With its steep defensive rock walls, the castle used to oversee the political borders by its being the Most Serene Republic's natural northern frontier. Moreover, it was also a mandatory stopover on the Alemagna road - an important connecting route to Germany.
The construction of the castle can be traced back to the beginning of the eleventh century, although according to the current dating it may originate from around 1300. Substantial renovations were made in 1567 and again in 1619; the moat area was modified during World War I to adapt to the military necessities of the time. Unfortunately, only a few of the archaeological layers have remained intact.
The ancient castle was abandoned in the second half of the eighteenth century. It was razed to the ground shortly after so that its silhouette is unrecognisable from the valley below.
From the scientist involved in the project, we know that all elements of the fortification scrutinised until now are made of either hewn stones brought from the Main Dolomite or large pebbles, similar to those found inside the thick fluvioglacial cover that had shaped the slope north of the cliff. The entirety of the material used for the construction of the castle was available therefore either on-site or in immediate proximity.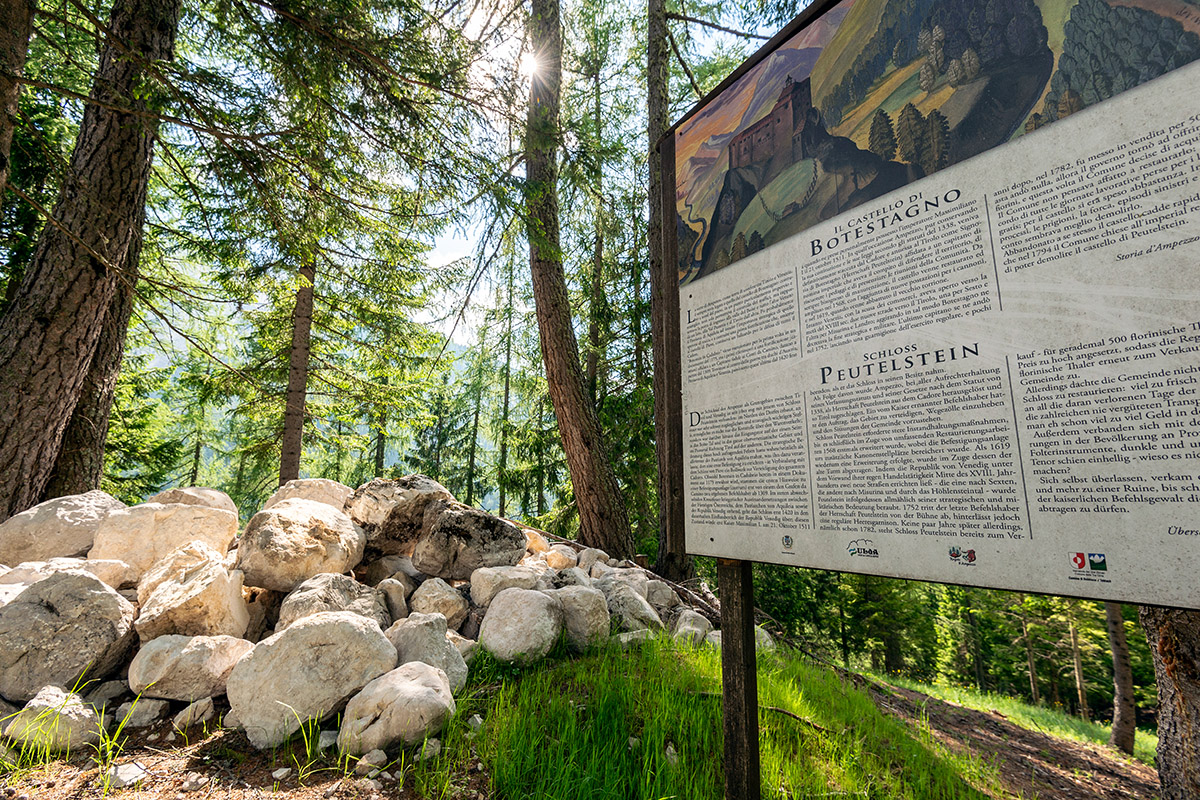 The ruins of the Castle (photo by Giacomo De Donà)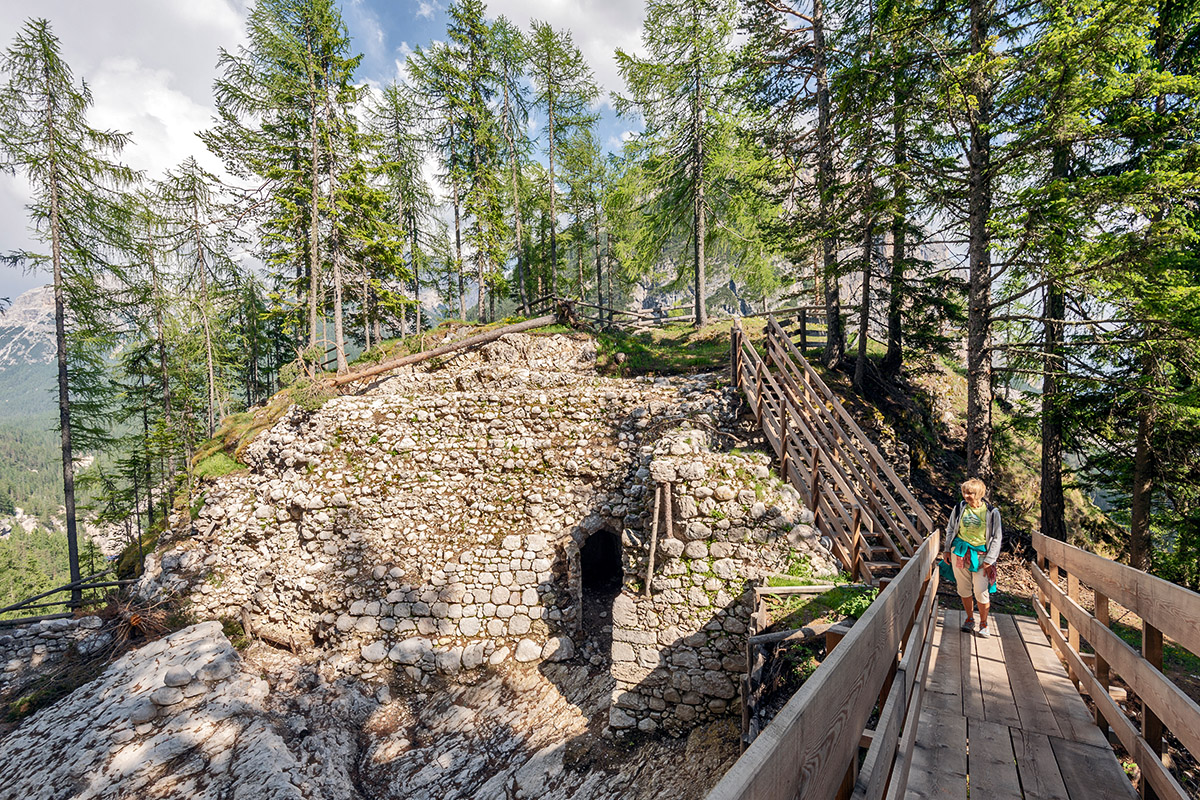 The ruins of the Castle (photo by Giacomo De Donà)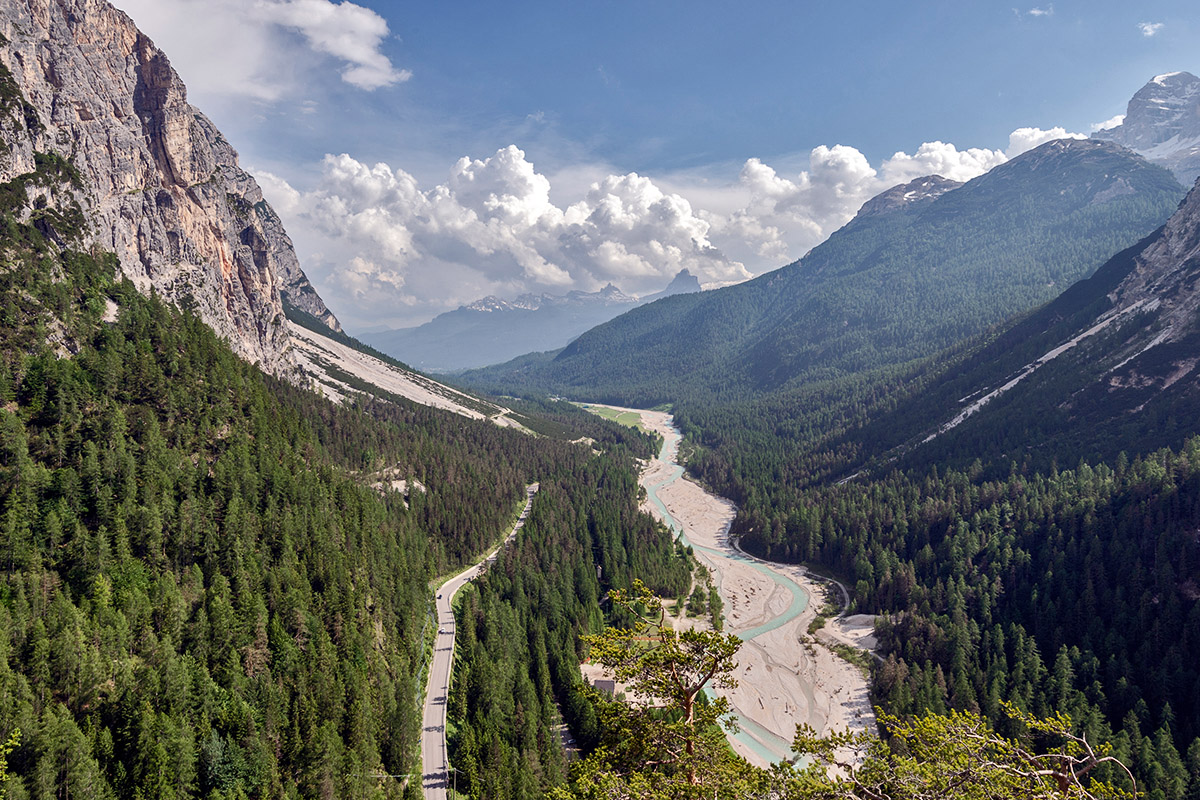 Boite Valley (photo by Giacomo De Donà)
USEFUL INFORMATION
A quarry was opened for the construction of the Cortina Parish Church near Ru di Cavai in 1759; in 1762 the Town Council of Ampezzo had a new road made which would provide more comfortable access to the wording slope leading to the meadow behind the castle.
LINKS TO WEBSITES
BIBLIOGRAPHY
bibliography: n.a.
AUTHOR: Letizia Lonzi, 30/04/2020