BASIC INFORMATION
LOCATION
municipality: San Vito di Cadore (BL)
address: Corso Italia 1
geographical Coordinates: 46.463095, 12.204450
ACCESSIBILITY
wheelchair accessibility: external
recommended season: all year
directions to reach the starting point: the bell tower is near the parish church of San Vito
DESCRIPTION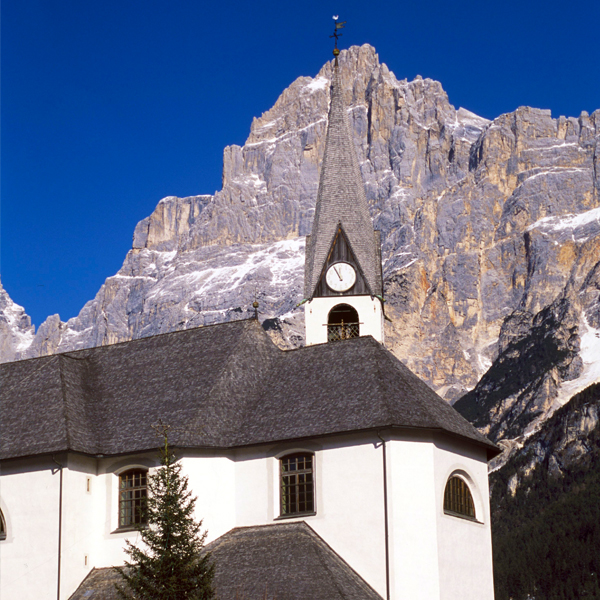 Church of San Vito di Cadore (photo by infodolomiti.it)
The current height of the bell tower of the parish church of San Vito di Cadore is 39.20 meters (up until the cross) with the basement made in dolomite. As far as we can glean from the few historical documents left, we know that the story of the parish church was a troubled one. The bell tower was once detached from the nearby Gothic. The church itself was rebuilt around 1760. Following the design by Schiavi from Tolmezzo, the tower is now located close to the apse. The repair works on the church had affected the use of the bell tower. Its restoration was a matter of consideration from all angles and included the consulting of various experts in the field. Completing the project was thus settled with Domenico Schiavi and the joiner Bortolo Del Fabbro who was entrusted with lifting the belfry and the roof.
It was also intended to keep the fragment of an external fresco of the magnificent St. Christopher, patron of pilgrims and travellers who roamed the Regia Road below. The soaring bell tower, on the other hand, seems to contain marks of an ancient fifteen-metre high lookout tower.
USEFUL INFORMATION
The Church of the Madonna della Difesa located just below the parish has a large protruding cornerstone in dolomite on its eastern side. A large stone on the north-west corner contains what according to local tradition are the footprints of the Virgin Mary. These may be chiselled holes where metal bars for gonfalons were inserted.
LINKS TO WEBSITES
http://parrocchiasanvitoborca.it
BIBLIOGRAPHY
M. F. Belli, San Vito di Cadore: la chiesa pievanale e il campanile, 2005
AUTHOR: Letizia Lonzi, 30/04/2020