The "Gasthof zum Stern" in Oetz - dolomite stone as raw material for plaster
BASIC INFORMATION
ACCESSIBILITY: from the outside
MUNICIPALITY: Oetz
ADDRESS: Kirchweg
GEOGRAPHIC COORDINATES: 47.203843, 10.898599
PROVINCE: North Tyrol
DIRECTIONS
The inn Gasthof zum Stern is located in the centre of Oetz. Driving on the A12 Inntal motorway, take the exit Haiming - Ötztal and proceed on the B186 (main road) until the exit Sautens. The inn is within a short walking distance from Ötztal Tourist Information office in Oetz down the village street and then proceeding on Kirchweg.
DESCRIPTION
The listed inn "Gasthof zum Stern" is located in the center of the municipality Oetz, at the entrance of the valley of the same name. The late Gothic inn is a traditional Tyrolean inn with a central floor layout, regular facade composition and vibrant facade painting. The northern gabled facade has a widely bevelled lancet arch with a pentagonal central oriel window perched on top of it. The figural depictions on this side of the facade represent not only references to local culture but also counter reformatory oriented scenes from the Old Testament. The facade paintings were made possible by the application of plaster over the masonry with a binder made of burned dolomite. Plasters and mortars are classic examples of the use of dolomite rock in Tyrol in the past as a raw material for binder production.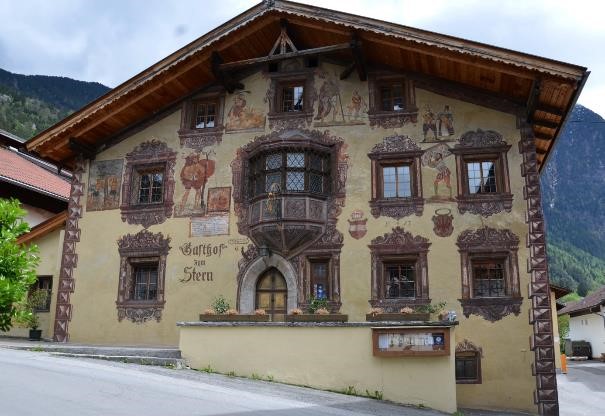 The north side of the "Gasthaus zum Stern" inn embellished with numerous wall paintings.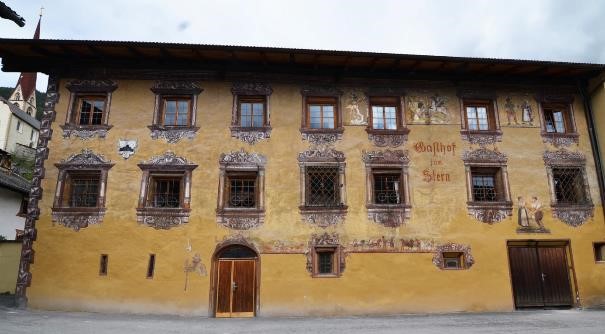 The inn's west side.
USEFUL INFORMATION
The use of pure lime as a binder for mortar and plaster can be described with the limestone life-cycle. Calcium carbonate is replaced by calcium oxide (burnt lime) during the burning process while releasing carbon dioxide. Through the process of slaking, water is poured over the burnt lime, thus forming calcium hydroxide. The thus created calcium hydroxide is used as a binder for the preparation of plaster or mortar. After the application of mortar and/or plaster to the building, calcium hydroxide reacts with the carbon dioxide in the atmosphere and forms calcium carbonate (lime). Due to the magnesium content of the dolomite stone, apart from calcium oxide, also magnesium oxide is formed whenever this rock comes into use in construction. During the subsequent slaking, both compounds are chemically replaced by calcium hydroxide and magnesium hydroxide. The completion of the construction process and the resulting curing of the binder causes the reformation of calcium carbonate, and with some delay, also magnesium carbonate. It is a curious fact that this process causes the creation of calcium and magnesium carbonate and not the dolomite, which was the initial product.
For this reason, there is no limestone life-cycle when using dolomite as a binder.
BIBLIOGRAPHY
R. Rampold, Kunstführer Tirol die 400 bedeutendsten Kunstschätze in Nord- und Osttirol, Tyrolia-Verlag, 2014

A. Diekamp, Bindemitteluntersuchungen an historischen Putzen und Mörteln aus Tirol und Südtirol, Dissertation an der Universität Innsbruck, 2014.
AUTHOR: Tobias Bader, 30/04/2020